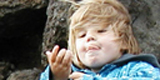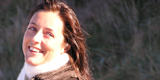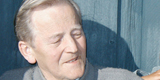 Updated August 24th, 2010
EVERYDAY MEETINGS - RANDOM MEETINGS
Addý is passing the Hallgrím church when the phone rings in her pocket. It is Karin on the way home from uni. She has just passed Knippelsbro in Copenhagen. There is a strong wind and the phone scratches while she tells that the bicycle chain fell of - again.

They update each other and then they tuch upon the theme of the month: What should they surprice Helle on her big day? Maybe Kristina and Martin should be involved. They agree to meet at Café Pantopia half an hour later, and while Karin is trying to get hold of the other two, Addý hurry home to find some photos of Helle. They might use them for a song.
40 minutes later Addý opens the door to Cafe Pantopia - it is packed. Fortunately, she spots Karin and Martin across the busy tables and they have been lucky to get a connection to Reykjavík. They wave from the corner, make comments about the weather in Reykjavík and has already ordered a cup of hot chocolate for her. The waiter smiles: "Today the lady on the other side of the table pays!" Addý looks at them with gratitude and puts the photos on the table and they begin to plan a surprise for Helle.
After a while, Sarah suddenly pops up behind Karin and Martin. Funny to see an old colleague from Copenhagen. They greet each other and after a little chat, they realize that Sara is trying to find a free connecting table because she has made a Pantopia-date with someone from Nuuk, who she might work with during the summer months. Addý presents Sarah for her friends who are about to leave and they give Sarah permision to take over the table and connect to Nuuk. Before they split up the share a Pantopia hug.