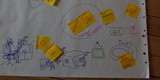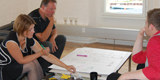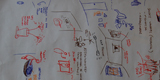 Updated August 24th, 2010
PHASE SUBDIVISION
1. pre-project running from summer 2008 until summer 2009 with the aim to explore, develop and present the idea on this website, and through a comprehensive final report including a implementable plan for the pilot project.
2.Pilot project testing in relation to the proposes of the pre-project. The pilot project contains technical tests and social test setups. Estimated time 1 year.
3. Project implementation of the entire project.

THE STEERING COMMITTEE
The steering committee is consisting of three persons, two lives in Copenhagen and one on the Faroe Islands. The committee prepare reports and manages the operation of the overall project.
CONSULTANTS AND STAKEHOLDERS
Agreements are made with a number of persons to act as consultants for various areas connected to the project. Contacts with these and other stakeholders is conducted both individually, in groups, through workshops and during interviews.
SUPPORT ENTITIES
Cafe Pantopia got strted with financial support for the pre-project from NORA and 'short-term network support' from Nordic Cultural Point. Besides that the project gets support from the forieng ministery in Faroe Islands and the Faroese Representation in Denmark. Also the company Bitland played an active role in the pre-project .